Sponsor: Skillsoft
Case Study- Indian River State College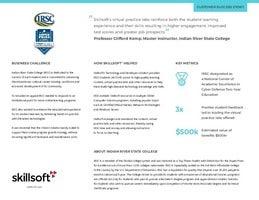 Indian River State College (IRSC) is dedicated to the success of each student and is committed to advancing the educational, cultural, career training, workforce and economic development of its community.
To broaden its appeal IRSC needed to respond to an institutional push for more online learning programs.
IRSC also wanted to enhance the educational experience for its modern learners by delivering hands-on practice with the latest technologies.
It was essential that the chosen solution easily scaled to support their online program growth strategy without incurring significant hardware and maintenance costs.