Sponsor: Nasuni
Nasuni for Windows Server 2008 File Server Migration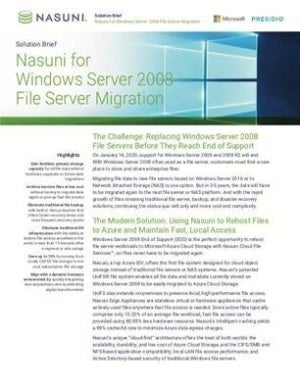 Nasuni provides the first multi-cloud platform that enables enterprises to store, protect, synchronize, and collaborate on unstructured file data as it transitions from actively used to inactive. Today, the world's largest companies in 12 industry sectors rely on Nasuni to maximize the business value of their file data and ensure business continuity.
Nasuni's unique "cloud-first" architecture offers the best of both worlds: the scalability, durability, and low cost of Azure Cloud Storage, and the CIFS/SMB and NFS-based application compatibility, local LAN file access performance, and Active Directory-based security of traditional Windows file servers.
Learn more about Nasuni file server migration today.