Research/Infographic
Research report: IT security's looming tipping point
Even as security draws board-level attention, many IT professionals give their organizations' infosec practices low marks. This special report from CIO, CSO and Computerworld reveals how to tip the balance in the right direction.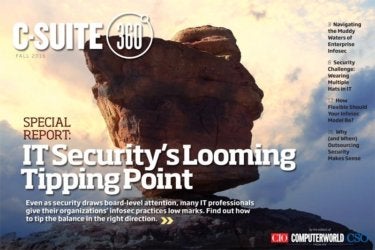 Given the rash of high-profile data breaches that have exposed customers' personal information, created PR nightmares and cost C-level executives their jobs, IT and business leaders should have security at the top of their priority list. But while businesses are saying the right things about giving IT security more attention and budget, is that talk being put into useful action?
To find out, the editors of CIO, Computerworld and CSO joined forces to survey IT and business leaders about the state of information security. In this C-Suite 360 special report you'll find key results from the survey as well as guidance on a range of issues faced by organizations looking to ramp up their security game, from aligning security needs with business goals to crafting an infosec model that stays on top of new threats without overwhelming users.