"The security and privacy of our customers have always been a top priority for us," said Rick Mancinelli, CEO of C3, in a press release. "It is an honor to have someone of Mr. Scheidell's expertise and experience on board to lead our efforts in this area."
 "It is a pleasure to be working with C3, their partners and their clients," said Scheidell in a press release. "With a threat landscape that continues to grow in both sophistication and frequency of attack, effective security practices are more important than ever."
August 7, 2018: NERC promotes Bill Lawrence to VP and CSO
Lawrence will lead all of NERC's security programs executed through the Electricity Information Sharing and Analysis Center (E-ISAC) operations, directing security risk assessments and mitigation initiatives to protect critical electricity infrastructure across North America. He will also lead coordination efforts with government agencies and stakeholders on cyber and physical security matters, including analysis, response and sharing of critical sector information.
"I am excited to have Bill in this role leading NERC's security programs," said NERC President and CEO Jim Robb in a press release. "Bill's dedication to the security mission of the E-ISAC and his commitment to stakeholders factored heavily in our decision to name him as our top officer for the E-ISAC."
Lawrence joined NERC in July 2012 and has held a variety of positions with the E-ISAC, including overseeing the development of NERC's grid security exercise and grid security conference — GridEx and GridSecCon, respectively. Currently, Lawrence serves as senior director of the E-ISAC, leading the division in its mission to identify and mitigate cyber and physical security risks to the grid in North America.
"I am humbled to have this opportunity to make positive strides toward the security and resilience of the grid. Security across North America is a vital piece of our mission. The threats are real, dynamic and extremely significant," Lawrence said in a press release. "The E-ISAC Long-Term Strategic Plan provides the framework to increasing the EISAC capability required to help stakeholders protect the grid. I look forward to leading that charge and working with our industry and government stakeholders toward that end."
Prior to joining NERC, Lawrence was a pilot of F-14 Tomcats and F/A-18F Super Hornets for the U.S. Navy. He also served as the deputy director in the Character Development and Training Division at the U.S. Naval Academy, where he taught courses in Ethics and Cyber Security.
August 1, 2018: Ankura Names Gina Ciavarro CISO
Based in Washington D.C. and specializing in information security and governance, Ciavarro brings insights developed from a decade of counseling clients to her new role with this business advisory and expert services firm.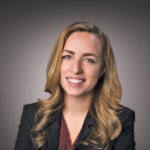 Previously, Ciavarro led Ankura's information security program development and compliance initiatives for one of the firm's largest clients. In that role, she developed tailored solutions that fortified and modernized the client's security systems to fulfill regulatory requirements. Ciavarro's adaptive approach to information security challenges enables her to seamlessly and collaboratively integrate across business functions to solve complex data protection issues.
"As a recognized expert in IT security, Gina is a perfect fit for the role of chief information security officer. She brings real-world security management experience and a consulting mindset to the role, which will allow her to approach issues from numerous perspectives and deliver valuable business and technology outcomes for Ankura and our clients," said Kevin Cheung, Ankura's CIO, in a press release.  
Prior to joining Ankura, Ciavarro served as a principal consultant for Symantec, a leader in the data loss prevention and security services industry. During her career advising large, multi-national enterprises, Ciavarro has developed security strategies focusing on technology implementation and integration, business process, program design, and data governance.
"I am excited to work with Kevin and the Ankura leadership team to meet the challenges of my new role and build upon the efforts already underway to continuously evolve and maintain the firm's IT security infrastructure," said Ciavarro in a press release. "Security is clearly top of mind for all clients and as a trusted partner to them, we remain steadfast in our commitment to being a leader in information security and protection."
August 1, 2018: Arctic Wolf Networks hires Marty Sanders as chief security services officer
In this new role, Sanders will lead all aspects of the delivery of Arctic Wolf's AWN CyberSOC, which provides a security operations center as a service. He will manage the security engineering teams' customer interface and back-end analysis.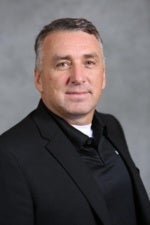 With more than 29 years of industry experience, Sanders has held positions ranging from chief technology officer for North America at Kaminario to technology and services team lead at Dell/Compellent.
"With his proven track record for developing and building service organizations known for their amazing customer experience, welcoming Marty to the team means providing the best for our current and future customers," said Brian NeSmith, CEO and co-founder of Arctic Wolf Networks, in a press release. "We're strategically building our team, capabilities and infrastructure to ensure we are providing the level of engagement our customers deserve, and the addition of a dedicated CSSO exemplifies this commitment."
"As enterprises struggle with the troubling dichotomy between an increasing volume of cyber threats and the cybersecurity skills shortage, there is a critical need for outsourced cybersecurity services to support internal teams' efforts," Sanders said in a press release. "I'm excited to be a part of developing such a viable market solution, centered around customer service and affordability, to help enterprises of all sizes get the talent and security they need."
July 19, 2018: Raj Badhwar named CISO at Voya Financial
Badhwar will be responsible for advancing the Voya information security strategy as well as defining associated policies and standards for achieving the strategy. He will lead a team accountable for developing, managing and maintaining the information security and protection policies and standards for all company computing, privacy and collection activities.
Badhwar and the team will expand Voya's efforts to continually progress enterprise-wide information security capability to secure the privacy of proprietary, intellectual property, personal, privileged or otherwise sensitive company information. He will report directly to CIO Santhosh Keshavan.
"Raj brings to the role vast technical knowledge and deep leadership experience to help Voya advance our security vision and strategy in alignment with our business growth plans," said Keshavan in a press release. "His broad experience will be instrumental as we continue to safeguard the confidentiality, integrity, and availability of information assets and resources under the care of Voya."
Badhwar has more than 20 years of experience in cyber security engineering and operations. Most recently, he was global head of information security for AIG, where he led a security strategy centered on the protection and preservation of information assets.
"Voya understands the critical nature of information security in today's business environment and has demonstrated a strong discipline for protecting customer and company data," noted Badhwar in a press release. "What's especially exciting to me is how Voya is strategically advancing its technology capabilities in sync with emerging technologies to uphold its commitment to their customers and shareholders."
July 18, 2018: Marc Rogers joins Okta as executive director of cybersecurity strategy
Formerly CSO at ScaleFT, which Okta recently acquired, Rogers has nearly 20 years of experience heading up security for Defcon Communications, one of the world's largest hacker conferences. He brings his "eat, sleep and breathe security" ethos to his new role at Okta.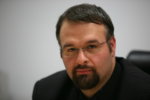 Prior to ScaleFT, Rogers was head of infosec for Cloudflare, CSO for AIAM in South Korea, and oversaw Threat Intelligence for Vodafone UK. His core expertise is as a whitehat hacker, investigating and uncovering security issues before communicating them to consumers and industry in a responsible way, such as with his hack of Apple's TouchID, Google Glass or, most recently, his automotive hacks such as the Tesla Model S. 
Among his more notable contributions to the security industry is his work in television. This includes helping to create and produce the award winning BBC series "The Real Hustle," and most recently as one of the technical advisors designing hacks for the USA Network TV show, "Mr. Robot." Rogers is also head of security for DEF CON, the world's largest hacker's conference where he tries to stop 20,000 hackers from destroying a hotel.
July 18, 2018: DMDII appoints Koushik Subramanian as director for the National Center for Cybersecurity in Manufacturing
The Digital Manufacturing and Design Innovation Institute (DMDII) announced that Subramanian has been named director of the National Center for Cybersecurity in Manufacturing. DMDII launched the center in March with $750,000 in seed funding from the U.S. Department of Defense. In addition to Subramanian's role as director of manufacturing cybersecurity for DMDII, he also will serve as CISO for UI Labs, DMDII's parent organization, which is driving the digital future of manufacturing and cities.
As manufacturing begins to retrofit or build assembly lines with such software and sensors, the attack surface only expands. Thirty-five percent of all cyber-espionage attacks in the US are addressed at the manufacturing sector, the largest amount of any single sector, according to the 2017 Verizon data breach investigation report.
"The security of the American manufacturing supply chain is dependent on the practices of its individual manufacturers, the vast majority of which are smaller enterprises," said Tracy Frost, director of Department of Defense Manufacturing Technologies, Office of the Secretary of Defense, Manufacturing and Industrial Base Policy. "The Center will lower the educational and cost barriers that the sector faces to increase readiness for cyber-attacks."
Prior to DMDII, Subramanian, 33, was director of risk and compliance at Uptake Technologies. He led data privacy, risk, and information security initiatives in addition to helping secure newly procured technology.
"We are thrilled to welcome Koushik to the team to guide the National Center for Cybersecurity in Manufacturing as we ramp up our cybersecurity activities," said Caralynn Collens, CEO of UI Labs, in a press release. "His experience in the industrial IoT space will be invaluable as we continue to address the unique security needs of the connected factory for defense manufacturers and other corporate partners."
July 16, 2018: CVP names Andrew Onello Joins CVP as director of cybersecurity services
Onello brings years of experience in cybersecurity, having served as the CISO and the Deputy CISO of the Department of Homeland Security (DHS) U.S. Citizenship and Immigration Services (USCIS), and as the security assessment and penetration testing lead at the DHS Immigration and Customs Enforcement (ICE).
"Cybersecurity continues to be an increasingly critical element in client programs, and CVP has expanded its efforts to meet client needs with cutting-edge solutions," said Anirudh Kulkarni, CVP CEO, in a press release. "Bringing in an executive with the expertise and experience of Andy Onello demonstrates our commitment to being the best in cybersecurity."
"I'm excited and honored to join CVP," said Onello in a press release. "The company has a great executive team, highly talented technologists, impressive growth, and a commitment to continue their leadership in the cybersecurity market."
July 11, 2018: F5 names Mary Gardner as CISO
Gardner is responsible for F5 Network's corporate-wide information security management efforts, along with strategic planning, governance and controls. This includes identifying, evaluating, and reporting on F5's overall security performance and posture in alignment with regulatory requirements and evolving industry best practices.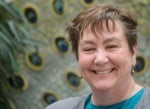 Gardner will also provide strategic input to product development and other teams with respect to F5's current security offerings and technology roadmap, as well as the company's broader cybersecurity and threat research efforts.
"Security is top of mind for any organization, and having a sharp, adaptable leader in place is essential," said Tony Bozzuti, CIO and SVP of information technology at F5, in a press release. "Mary's impressive career to date and knowledge of application security are a testament to the skills, aptitude, and authority she brings to the table. Her perspective will be a valuable asset as F5 expands its security and technology efforts to better support today's multi-cloud environments and modern enterprises' digital transformation efforts."