Review: Consider VPN services for hotspot protection
We review 7 low-cost VPN services for when you're out of the office or out of the country.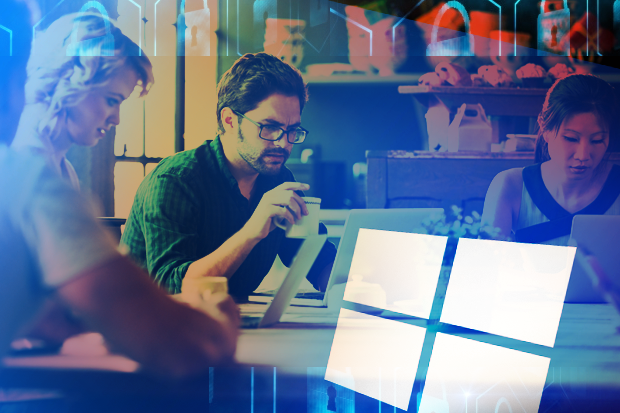 Virtual private networks have many uses. Typically, businesses deploy VPNs so employees can securely access the corporate network from outside the office. However, we've seen a rise in third-party VPN services that use the same underlying technology, the encrypted tunnel, to simply provide a secure Internet connection.
Why would you ever need to do this?
When connected to a VPN service, the websites you access think you're at the location where the VPN server is located. This can help anonymize your Internet traffic so it's much harder for websites to track your personal browsing history.
This also allows you to access websites, services, and content that's restricted where you are currently located, such as Netflix or Hulu when traveling overseas.
Additionally, your Internet traffic would be encrypted when you're on unsecured Wi-Fi networks, such as public hotspots. This prevents local eavesdroppers from capturing your browsing history and logins.
We evaluated seven third-party VPN services you could utilize for anonymizing your Internet activity, accessing geographic-restricted services, or securing your Wi-Fi hotspot connections.
Net results
|   | Avast SecureLine | F-Secure Freedome VPN | HMA! Pro VPN | Hotspot Shield | NordVPN | StrongVPN | SurfEasy |
| --- | --- | --- | --- | --- | --- | --- | --- |
| Free Edition | No | No | No | Yes | No | No | Yes |
| Monthly Price | $7.99 | N/A | $11.52 | N/A | $8.00 | $7.95 | $2.99 |
| Biannual Price |   |   | $49.99 | $19.99 | $30 | $40.00 |   |
| Yearly Price | $59.99 | $49.99 | $78.66 | $29.95 | $48 | $75.00 | $29.88 |
| Pros | Flexible auto connect settings on Android | Anti-tracking features. App security for Android | Feature-rich. Flexible VPN options | Data compression. Malware protection | Supports up to 6 simultaneous devices | Flexible VPN configuration | Auto connect on unsecured Wi-Fi |
| Cons | Complex licensing and pricing | Auto connect setting lacking | Android app could be improved | Unable to pick exact server location | Lacks Android and Linux app | Complex licensing and pricing | Unable to pick exact server location |
If you're looking for a free service/low cost option, consider SurfEasy or Hotspot Shield. Both offer a free edition of some sorts, but each is quite limited in functionality. Even their premium services are less expensive than others in this test. Both services provide an auto connect feature on their clients to auto-connect the VPN when on unsecure Wi-Fi hotspots, but both also limit you to choosing only the country of the desired server location instead of the city.
If you're an IT pro or security enthusiast, take a look at HMA! Pro VPN, NordVPN, or StrongVPN. These provide some custom client apps, but also allow you to connect from third-party clients as well, even routers to secure an entire network with a VPN. However, these are also the three most expensive of the services we reviewed.
If you're an Avast antivirus fan, check out their SecureLine VPN service. Though its licensing and pricing get complicated when you want access on more than one device, their service is simple and easy to use once you're signed up. The Android client also has highly customizable auto-connect functionality.
Finally, if you're looking for VPN service for a business, take a look at the business services offered by Hotspot Shield or Freedome.
Here are the individual reviews:
Avast SecureLine
SecureLine is one of the many security solutions provided by Avast, known mostly for its free antivirus. SecureLine VPN isn't free, but they do provide a seven-day free trial. Unlike most of the other services in this review, SecureLine licensing and pricing varies between platforms. Pricing starts at $7.99 per month for one PC or Mac, $2.59 per month for one Android device, and $2.99 per month for one iOS device. For businesses, it's $5 per device per month via their managed services solution.
We installed the SecureLine Windows application, version 1.0.244. A notification icon in the system tray of Windows lets you know if it's connected or not. You can right-click the icon to quickly connect or disconnect, or left-click to bring up the application.
The app is small and very simple. Under the connection status is the connect/disconnect button. You can either quickly hit the Connect button to utilize the nearest VPN location or click the down arrow to select one of 18 countries. Unlike most other services we reviewed, you can't change locations while connected. You must disconnect and choose another location.
The only other button is the settings shortcut in the lower-right corner. There you can choose what SecureLine should do when connecting to an unsecured Wi-Fi network, which could be to offer to connect or to auto-connect.
On our Android device, we installed the Avast SecureLine app, version 1.0.7704. By default, you only see a status icon for the app on the status bar of Android and on the notification drawer when you're connected to the service. However, you can optionally enable the icon and notification to be present when disconnected as well.
+ MORE: See screen shots of the services +
The Android app is also very simple. Under the connection status, you can optionally select a particular VPN location, and on the bottom of the app is the connect/disconnect button. However, unlike the Windows application, you can change the VPN location while connected.
You can open the app menu via the shortcut in the upper-right, where you can access the settings and connection rules. You can customize the notification settings. Conveniently, by default the app will alert you to connect to the service before you connect to any unsecured Wi-Fi network. Furthermore, you can utilize their connection rules functionality if you want the app to connect or ask to connect to a specified VPN location.
There's no shortcut to any help or documentation within the Android app or Windows application, but it really isn't needed given how simple the apps and service are.
F-Secure Freedome VPN
Freedome VPN is from F-Secure, which provides antivirus and other security solutions for computers and mobile devices. There's a 14-day free trial. After that pricing starts at $49.99 per year, supporting up to three simultaneous devices. There are additional pricing options that include support for up to five and seven simultaneous devices. Additionally, they offer Freedome in their business solutions, which is manageable via their Protection Service Portal.
We evaluated version 1.0.2246.0 of the Freedome Windows application. It includes a notification icon in the system tray of Windows, which is gray when not connected to the VPN service and blue when connected. You can right-click the icon to quickly connect or disconnect or change the VPN location. A normal left click on the icon shows the application.