6 ways a marijuana shop secures its premises
With retail marijuana shops unable to do business with banks, store owners are implementing stringent security measures to protect their cash, their product, and their employees. Here's how one store -- 3D Cannabis Center in Denver, Colorado -- is securing its facility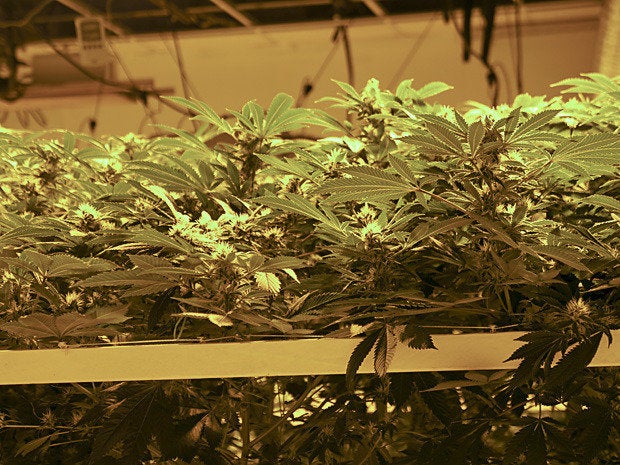 Video surveillance
Cameras, cameras, and more cameras. 3D has over 40 cameras spread out over its facilities, monitoring every inch of the 18,000 square foot property: outside, in the lobby, behind the registers, in the hallways, etc. Video footage is stored for a total of 40 days (20 days on on-site DVRs, 20 days off site) and can be referenced at any time.
Access control
Sensitive areas of the store's interior, like its grow rooms where the marijuana plants are kept, are protected by keypad locks such as this one. Only select employees have access and are given the codes to these doors.
Security personnel and vehicles
At least one member of the security personnel team is on store premises 24/7 and is equipped with radio communication. And although the store has yet to invest in armored car service for transporting cash, the security team still maintains a presence with its own vehicles. 
Weapons
All of 3D's security guards are currently armed with "almost lethal" tasers. Store owner Toni Fox says that she plans on having personnel upgrade their weapons to firearms in the near future after employees go through the necessary licensing process.
Guard dogs
Though they are not always on duty, 3D even employs the use of guard dogs to protect store property. 
Lock and key
When all else fails, there's always the good old lock and key: 3D uses both a PIN-protected Kidde KeySafe and a Knox brand lockbox alongside its other outdoor security measures. The boxes protect the keys for the locks on the store's doors.
Copyright © 2014 IDG Communications, Inc.
Next Up: Check out these related slideshows