Nashua, New Hampshire based data management and storage startup DataGravity has hired Andrew Hay as its first chief information security officer (CISO).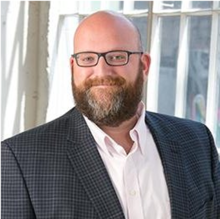 In his new role, Hay will report directly to the CEO. He will be responsible for the development and delivery of the company's comprehensive information security strategy, and will work with the DataGravity leadership team to provide visibility into customers' data stores and protect sensitive data at the point of storage. DataGravity CEO, Paula Long said that bringing Hay on board is a sign of the company's commitment to helping its customers "define, detect, and defend critical information."
If Long's name is familiar, it's because her last startup, EqualLogic, sold to Dell for $1.4 billion.
Prior to joining DataGravity, Hay served as the director of security research at OpenDNS, which was acquired by Cisco, and as the director of applied security research and chief evangelist at CloudPassage, among other security and software engineering positions. Hay writes a respected security blog, is a faculty member at IANS Research, and was an analyst with The 451 Group and The Honest Analyst, which he founded in 2014.
"Data-aware solutions are the cutting edge of sensitive data management technology," said Hay. "As traditional data security solutions prove increasingly ineffective, joining the DataGravity team allows me to support our customers and partners in protecting critical information from the rapidly evolving threat landscape while applying my industry experience to the forefront of the data security curve."
DataGravity is funded by leading investors, including Accel Partners, Andreessen Horowitz, CRV and General Catalyst Partners.