During Microsoft's E3 keynote, the company announced Xbox One Backward Compatibility which will make playing Xbox 360 possible. Microsoft said, "With Xbox One backwards compatibility, we won't charge you to play the games you already own."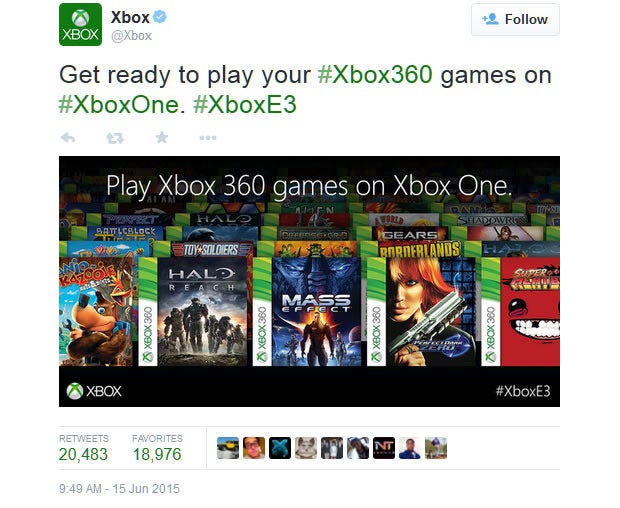 If you didn't sell or trade off your old Xbox 360 games, don't count on all of them being backwards compatible on Xbox One. Microsoft said more than 100 games will be available at first, but "this fall, we'll roll out back compat to everyone on Xbox One with support for a collection of Xbox 360 titles in digital and disc form. We will continue to release Xbox 360 titles on a regular basis and build a substantial catalog over time."
If you took a look at the available games, then you noticed Microsoft's disclaimer, "Initial preview titles with more to come. Games are subject to change."
Right now the complete list of games are: A Kingdom for Keflings, A World of Keflings, Alien Hominid HD, Banjo-Kazooie, Banjo-Tooie, BattleBlock Theater, Defense Grid, Geometry Wars Evolved, Hexic HD, Jetpac Refuelled, Kameo, Mass Effect, N+, Perfect Dark, Perfect Dark Zero, Small Arms, Super Meat Boy, Toy Soldiers, Toy Soldiers: Cold War, Viva Piñata, Viva Piñata: TIP and Zuma.
If you were bummed out by that selection, then jump onto the Xbox Feedback forum and vote for the Xbox 360 games you want to be backwards compatible with Xbox One. Microsoft's Xbox FAQ addresses how titles are selected: "We're starting with some of the most popular and highest rated Xbox 360 titles. We're listening to our fans and working with our partners." Please note however that Microsoft added, "We can't promise every title will be available, but we're working hard to make as many of your favorite Xbox 360 titles playable on Xbox One."
Below are the top 21 Xbox 360 games voted for Xbox One Backward Compatibility so far.
The only gamers with backwards compatibility right now are those who participate in the Xbox One Preview program, but Microsoft said, "The program will launch broadly in fall 2015." The only way into the preview program is to be invited by a friend who is already a member.
Additionally, Microsoft announced, "Xbox One preview program members who are also in the Windows Insider Program can use the streaming feature to mirror their Xbox One user interface to Windows 10 PCs and tablets."
So how will you get your Xbox 360 games to work with Xbox One Backward Compatibility? The Xbox team said:
The digital titles that you own and are part of the Back Compat game catalog will automatically show up in the "Ready to Install" section on your Xbox One. For disc-based games that are a part of the Back Compat game catalog, simply insert the disc and the console will begin downloading the game to your hard drive. After the game has finished downloading, you will still need to keep the game disc in the drive to play.
So what are you waiting on, gamers? Go vote on the Xbox 360 games you want to play on Xbox One.