Although the cost of 3D printers continues to drop so that more people have them in their homes, it's not like most homes have one. But innovative minds keep turning out new and improved 3D printers, such as these three new types: one can print soft and cuddly objects from fabric; another includes actuators that allow an object to morph after being exposed to external stimuli; the last has a retrofit kit to change 3D printers into 3D food printers.
Disney 3D-prints soft objects from fabric
You know how little kids can be super attached to one particular item like a toy or a blanket? And if that item gets lost or destroyed, it's a red alert unless you can find another exactly like the first. If that beloved object is a soft cuddly toy, wouldn't be great if you could 3D print another? Disney Research has come up with a 3D printer that can create soft interactive objects like a printed fabric bunny.
According to Disney Research, its new type of 3D printer "can form precise, but soft and deformable 3D objects from layers of off-the-shelf fabric."
Our printer employs an approach where a sheet of fabric forms each layer of a 3D object. The printer cuts this sheet along the 2D contour of the layer using a laser cutter and then bonds it to previously printed layers using a heat sensitive adhesive. Surrounding fabric in each layer is temporarily retained to provide a removable support structure for layers printed above it. This process is repeated to build up a 3D object layer by layer.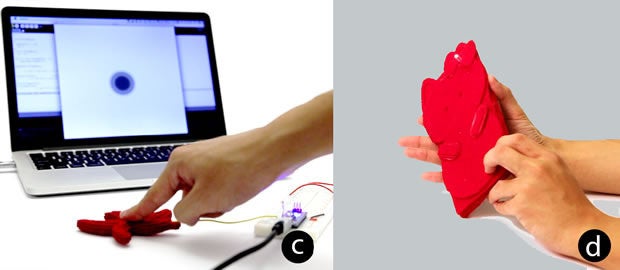 But Disney didn't stop at soft and cuddly as the researchers have also 3D-printed a smartphone case "with an embedded conductive fabric coil for wireless power reception." The phone case was printed with a fabric antenna inside that can harvest electricity from the phone's NFC chip to make an LED light blink. Disney also printed a "touch slider" for a laptop and a starfish that contains a touch sensor. The 3D printer accomplishes this by "automatically feeding two separate fabric types into a single print. This allows specially cut layers of conductive fabric to be embedded in our soft prints."
4D printing: 3D-printed objects that morph into something new
But 3D printing is "so last year," according to the ARC Centre of Excellence for Electromaterials Science (ACES), which is working on the "ground-breaking science" of 4D printing that would allow a printed object to include actuators so it can "transform" from "one shape into another, much like a child's Transformer toy." Basically, 4D printing consists of "3D printed materials that morph into new structures, post production, under the influence of external stimuli such as water or heat."
ACES researchers are working on a 3D-printed "valve that actuates in response to its surrounding water's temperature," making it a 4D-printed object.
"The cool thing about it is, is it's a working functioning device that you just pick up from the printer," said ACES Professor Marc in het Panhuis. "There's no other assembly required. It's an autonomous valve, there's no input necessary other than water; it closes itself when it detects hot water."
Retrofit kit turns 3D printer into 3D food printer
Meanwhile, German startup Print2Taste thinks it has come up with a way to bring more people into the realm of 3D food printing by selling Bocusini kits to retrofit existing 3D printers into food printers. Users can create a 3D-printed food design in the company's app and then send it to the food printer via mobile device over Wi-Fi.
3DPrint said retrofit kits will initially be offered for the Printrbot Simple, Ultimaker 2, and Printrbot Metal. The company will also sell its own standalone Bocusini printer and food pastes. Reloadable food capsules, which are "loaded into the food extruder, can contain anything from cookie dough, chocolate, and jelly, to vegetable paste, mashed potatoes, and even liver pâté."
Print2Taste will kick off a Kickstarter campaign on May 12.