You may be looking for news about Windows 10, but artists/hackers Jankenpopp and Zombectro announced recently that they have completed the trippy Windows 93 for your major time-suck enjoyment. You can play with the Windows 95-esque operating system via your web browser.
While there is no Internet Explorer in Windows 93, a spoof of Windows 95, there is instead a Cat Explorer; instead of Clippy, there is a Virtual Girl who can stare at you from the desktop. The image above is what happens if you keep opening multiple instances of Windows 93 Virtual PC.
There's no Skype, but there is Zkype, which includes the warning error: "Warning, a satanic kitten orgy is happening on zkype right now…We are working hard restoring teh normality, stay tuned."
There's Solitude – not the one from Skyrim, but an 8-bit version of the program Solitaire. Microsoft originally included Solitaire in Windows "to soothe people intimidated by the operating system" and graphical user interface. Microsoft used Solitaire to familiarize users with "drag-and-drop" operations for moving cards.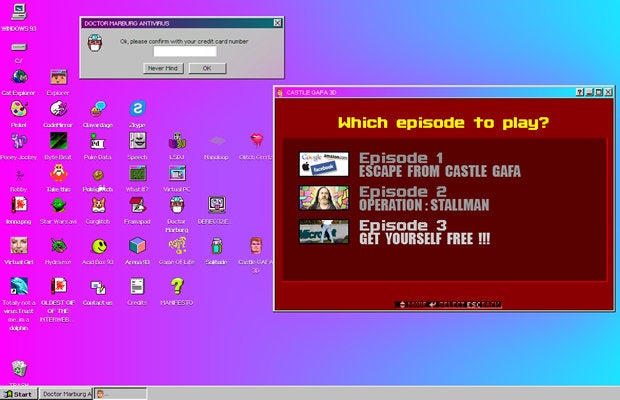 The capture above shows that the antivirus "Doctor Marburg" will ask for a credit card number at one point. When first launching "Castle GAFA 3D," you see that episode three includes a Microsoft sign being used as a make-shift urinal.
The screenshot above includes what happened after clicking on the dolphin icon labeled, "Totally not a virus. Trust me.. im a dolphin," as well as an ASCII version of Star Wars.
It's surprising how deep you can drill into Windows 93, where all kinds of goodies are waiting to be found in the file directories.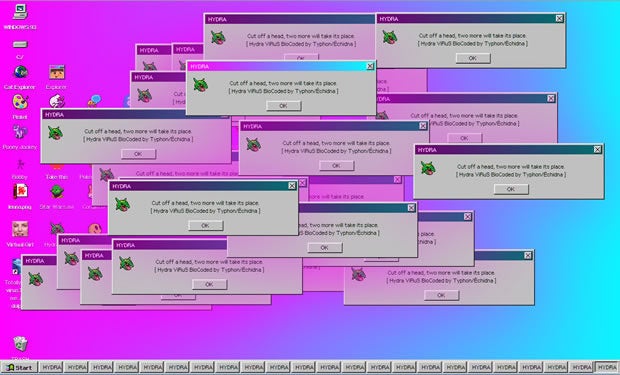 Hydra is a throwback to when virus writers put an icon shortcut on the desktop, daring users to click it.
There's a GameBoy emulator, "Byte Beats," and Piskel is the Windows 93 version of MS Paint; there are numerous other programs, games, glitches, and even a virtual acid trip via Acid Box 93. If you are running off to check it out and discover some of the many hidden Easter eggs, well then…"it's dangerous to go alone. Take this."
Be warned, you can waste a lot of time having fun with Windows 93. I liked it even more than Windows 8.