Late Monday evening, Facebook dropped offline after reporting an error message on its homepage. Immediately after, their image-sharing service Instagram went down, followed by Tinder. Three of the Web's hottest properties were offline, and no one knew why.
Facebook disappeared just a little after 01:00 a.m EST Tuesday morning (10:00 p.m. PST). Prior to the outage, the social media giant displayed a simple message on their homepage that "something went wrong."
That was the only warning given. Users of Instagram and Tinder didn't see anything but connection errors.
Opting to leave Google+ abandoned as usual, users took to Twitter to express their outrage, and share theories about the cause of the downtime.
The most popular theory was that the outages were related to DDoS attacks, and the blame was being directed at a group of script kiddies (untalented hackers) known as Lizard Squad. They even claimed responsibility for the outages, but offered no proof.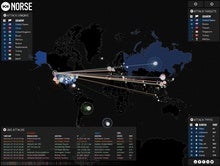 Yet, at the time, the DDoS speculation was backed by a map from Norse showing a large volume of DDoS related traffic across the U.S., slamming parts of California and Washington, as well as parts of the Midwest.
Shortly before this story went to print, Tinder confirmed that services were restored, warning users that they'd need to log out and back in again to restore matches.
Soon after that, Facebook and Instagram returned, and the cause was listed as a technical issue.
Andrew Pope, the production engineering manager at Facebook, posted the following to the Facebook Developers page:
"Facebook and Instagram experienced a major outage tonight from 22:10 until 23:10 PST. Our engineers identified the cause of the outage and recovered the site quickly. You should now see decreasing error rates while our systems stabilize. We don't expect any other break in service... Thank you for your patience."
A spokesperson issued a statement matching Pope's post, noting that a change in the production systems caused the global outage.
"Earlier this evening many people had trouble accessing Facebook and Instagram. This was not the result of a third-party attack but instead occurred after we introduced a change that affected our configuration systems. We moved quickly to fix the problem, and both services are back to 100% for everyone."