Microsoft CEO Satya Nadella has repeatedly said the company wants to empower people so they can do more with their scarce commodity of time. During the Seattle Metropolitan Chamber of Commerce annual luncheon, Nadella reiterated that Microsoft wants "to enable every individual and every organization to get more out of every moment of their life." There's an abundance of computing devices in all shapes and sizes now, but "what's the scarce commodity? It's human attention."
"If there's anything central to our vision," Nadella said, "it's don't think of the device at the center, think of the individual, the people at the center. And then have the platforms and productivity experiences get built with that at the center." Mobile devices will come and go, "but what's going to be the constant? Your digital memories, your productivity experiences across all of those devices. That's really the center of how we think about innovating today and into the future."
Windows 9, or Threshold, will show if Microsoft is serious about putting people first. The technical preview is expected to be released to the public on Sept. 30. German Windows site Winfuture.de published several videos and screenshots showing off Windows 9 build 9834. The OS is looking good, and that's not just due to the return of the Start menu.
Windows 9 leak of the new Start menu
If you are not a fan of Live Tiles, then you can kill them off to make the Start menu more Windows 7-flavored. The video below shows options to turn Live Tiles off, or unpin specific ones from Start.
Virtual desktops
Virtual desktops are supposed to provide better productivity. Clicking on the multi-desktop icon allows you to open a new desktop or jump between open desktops.
The Register snarked that the feature brings "Windows up to speed with tricks that desktop Linux has been turning for at least half a decade." The "multiple desktops" feature "looks an awful lot like the 'workspaces' that have been around in Ubuntu and Gnome for years." Welcome to the club, Windows!
New and improved notification center
The notification center also received a welcome make-over.
Storage Sense
Several Windows Phone features are also coming to Windows 9. The Storage Sense feature will provide a "total storage management solution in one app." Microsoft provides how-to details for Windows Phone users if you want to take a closer look.
Wi-Fi Sense
Wi-Fi Sense, a Windows Phone feature, also appears to be coming to Windows 9. Microsoft described it as giving you the ability to automatically connect to crowdsourced open Wi-Fi networks it knows about; accept a Wi-Fi network's terms of use on your behalf and provide additional info for you to networks that require it; let you exchange password-protected Wi-Fi network access with your contacts to give and get Internet access without seeing each other's Wi-Fi network passwords."
IE 12, aka Spartan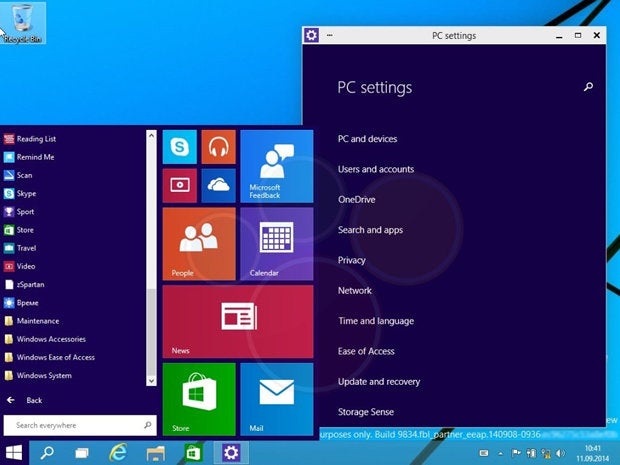 Internet Explorer 12, aka Spartan, was also spotted in the Windows 9 leaks, but Neowin suggested the new browser may not be a part of the technical preview expected to be released on Sept. 30. It "looks like a cross between Chrome and Firefox," and appears to support browser extensions.
Cortana
Cortana is coming to desktops, at least according to eight screenshots published by WinFuture. That does not mean Microsoft's digital assistant will be included in the Windows 9 technical preview; Microsoft previously claimed it will update Cortana twice per-month, meaning that once it is part of the desktop, then updated functionality and features could roll out regularly. If Cortana can live up to her hype, then the digital assistant could be a valuable asset.
If Nadella is driving Microsoft in a new direction, one in which public feedback actually matters, then changes via new builds pushed out to Threshold, or Windows 9, technical preview will depend upon your feedback. While your time is undoubtedly valuable, I encourage you to give Microsoft your feedback so the new OS can give us what we want and need in Windows.