Did you ever want to be able to talk to your computer like in Star Trek? In order to have that sort of hands-free interaction, the computer would need to be "listening" at all times. While the concept seemed pretty cool, the reality of Intel's new "razor-thin" Core M chips that are "always listening" creeps me out.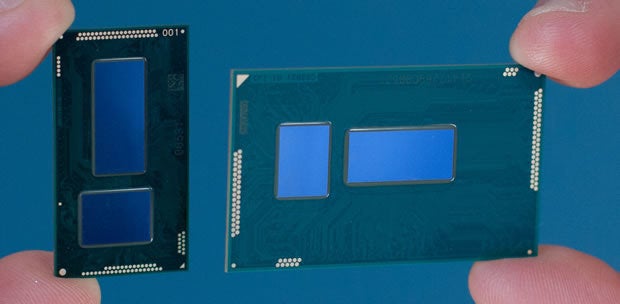 Technology Review's Tom Simonite reported that Intel's new chips will be listening for "Hello, computer." That's all it takes to awaken a laptop or tablet so it is ready to "operate as a voice-controlled virtual assistant."
"It doesn't matter what state the system will be in, it will be listening all the time," says Ed Gamsaragan, an engineer at Intel. "You could be actively doing work or it could be in standby."

It is possible to set any two- or three-word phrase to rouse a computer with a Core M chip. A device can also be trained to respond only to a specific voice. The voice-print feature isn't accurate enough to replace a password, but it could prevent a device from being accidentally woken up, says Gamsaragan. If coupled with another biometric measure, such as webcam with facial recognition, however, a voice command could work as a security mechanism, he says. 
The "voice-on" feature is compatible with any OS, but it will be up to manufacturers to "decide how to implement the voice features in Intel's Core M chips." You should expect devices with the chips to be available for purchase starting in October.
Core M is 50% smaller and has 60% less thermal power than the previous generation, Intel announced. "This lets OEMs design sleek, fanless systems less than 9 mm thin – thinner than an AAA battery and today's sleekest laptops. There are already more than 20 Intel Core M processor-based OEM products in the development pipeline. The first systems based on the Intel Core M processor will be on shelves for the holiday selling season."
Intel's press release did not mention the "always listening" for voice commands feature, but the company is not the first to believe the future is filled with devices that are lurking and listening. For example, Google engineering director Scott Huffman told The Independent that Google sees the day coming when microphones are hanging from the ceiling, listening "like a great personal assistant" that "will interrupt you and say 'you've got to leave now.' It will bring you the information you want."
Huffman suggested leisure uses for the ceiling "microphone network" too. "Imagine I can say to a microphone in the ceiling of the room 'Can you bring up a video of the highlights of yesterday's Pittsburgh Steelers game and play it on a TV in the living room?' and it works because the Cloud means everything is connected."
"I could ask my Google 'assistant' where we should have lunch, that serves French food and isn't too expensive? Google will go 'Ok, we'll go to that place' and when I get in my car it should already be navigating to that restaurant. We're really excited by the idea of multiple devices being able to talk to each other."
While the "always listening" chips may prove to be a big success, the voice-on feature may steer some people toward AMD. It doesn't matter if a person were talking to "Google Now," Microsoft's Cortana, or Apple's Siri; somehow, the entire intelligent personal assistant idea seemed more appealing when it was done in Star Trek.