The "Streisand Effect" is in full force after the New York Post reported the Union Street Guest House hotel "charges couples who book weddings at the venue $500 for every bad review posted online by their guests." Before it hit the fan and the Internet responded with a flurry of bad PR, the hotel's website stated the following policy for online reviews:
Talk about backfiring; Union Street Guest House now has a one-star rating on Yelp. For today alone, August 4, the hotel has thus far received over 500 one-star ratings, spread out over 15 pages…and it may well exceed that, but that's when I stopped counting.
Moving over to TripAdvisor where the hotel is rated at four stars and going down that list, I stopped at the first one in which the hotel had posted a response back in Nov 2013. MisterTravel1000 claimed the "attitude here is a turn off" and gave the hotel a score of 2. USGH started its reply with, "Wow. We are so sorry you thought we had 'attitude'."
According to the hotel's Facebook page, "The policy regarding wedding fines was put on our site as a tongue-in-cheek response to a wedding many years ago. It was meant to be taken down long ago and certainly was never enforced." After publishing, I noticed the Facebook post had been deleted, so I grabbed a screenshot and added it here. You can also be sure the review policy has been changed on Union Street Guest House's website.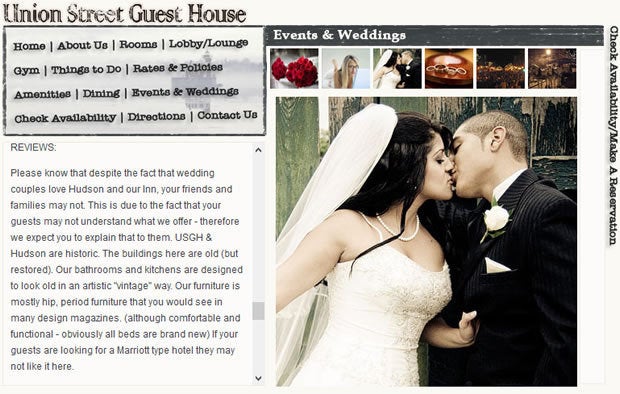 Yet even if you buy into that, if you go back over Yelp reviews then you will see that in Nov 2013, Rabih Z claimed, "The management of this hotel had the gall to email us twice to threaten us financially about the negative review!"
Now that the "tongue-in-cheek" $500 fine for negative reviews has lifted, you might expect to see the hotel pummeled not only on Yelp, but also on Foursquare, Google+ and TripAdvisor.
I tried calling the hotel to see if it cared to comment on any potential business strategy to combat the wrath of the Internet, but no one dared to answer the phone. That came as no surprise, since several online reviewers claim that the hotel doesn't answer the phone on normal days.