I feel the need for speed.
Network security is a balancing act. The point of any network security tool is to monitor traffic for suspicious or malicious activity, and identify and block potential threats. But, the point of the network is to connect users to resources, and move data from Point A to Point B as quickly as possible. The process of monitoring and scanning all traffic inevitably slows things down a tad.
Check Point is an established name in networking and network security, and it understands the tradeoffs IT admins are faced with. That's why it has developed a new line of blazing fast data center security hardware, beginning with the launch of the 13500 Appliance.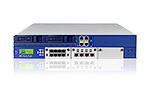 "As cyber-attacks continue to increase and evolve in sophistication, ensuring data center security has become a top priority for customers all over the world. However data center security should not be compromised by tradeoffs in performance," said Dorit Dor, vice president of products at Check Point Software Technologies in a press release.
The Check Point 13500 Appliance provides multi-layer security in a single device. It includes Check Point's Next Generation Firewall, Threat Prevention, Data Protection and Secure-Web Gateway to comprehensively guard against potential attacks, and Advanced Persistent Threats (APTs).
The Check Point 13500 Appliance is available now through Check Point partners starting at $79,000.