It has been a very strange week in the Bitcoin world. Stranger still the last several hours. The publication Newsweek relaunched their print edition with a sensational story about the apparent discovery of Satoshi Nakamoto, the father of Bitcoin. 
From Newsweek:
For nearly a year, Andresen corresponded with the founder of Bitcoin a few times a week, often putting in 40-hour weeks refining the Bitcoin code. Throughout their correspondence, Nakamoto's evasiveness was his hallmark, Andresen says.

 

In fact, he never even heard Nakamoto's voice, because the founder of Bitcoin would not communicate by phone. Their interactions, he says, always took place by "email or private message on the Bitcointalk forum," where enthusiasts meet online.
Here lies my problem with the story, statements like "evasiveness was his hallmark" and "would not communicate by phone" do not correlate with the gentleman who was interviewed for this piece. You mean for us to believe that someone who was concerned with his privacy would be living under his own name?
This doesn't sit well with me. 
Further adding to this bizarre story is the car chase around the Los Angeles area.
From Gawker:
In its story, Newsweek had identified the 65-year-old as the crypto-currency's creator. Journalists quickly set upon his house in the L.A. suburb of Temple City, where Nakamoto lives his family. Video from the scene showed him leaving with an AP journalist in a Prius—for free lunch, he said.

 

For reasons not entirely clear, a horde of tech journalists decided to tail Nakamoto and the unnamed reporter, who visited a sushi restaurant before eventually winding up in downtown Los Angeles.
But, is this the real Satoshi Nakamoto? There was enough speculation on social media to float a ship this evening.
Then, an interesting twist. This appeared on the P2P Foundation website in reply to a posting by the original Satoshi about the original Bitcoin paper.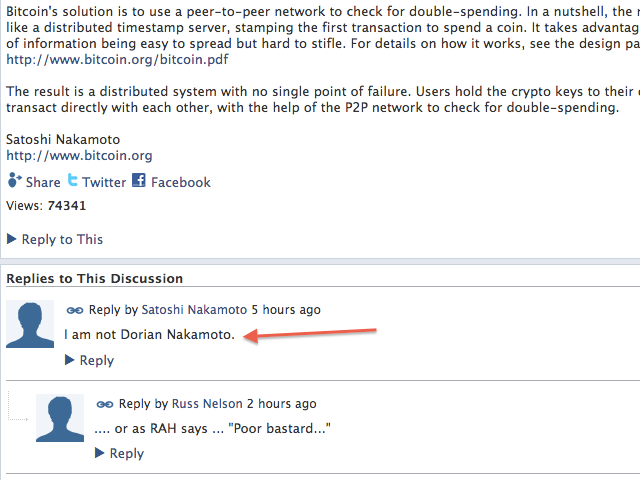 The email address is in the process of being verified by the site but, there seems to be a growing maelstrom of information that is pointing to the possibility that, Dorian Prentice Satoshi Nakamoto, isn't the Nakamoto that Leah McGrath Goodman thought she had found.
This is going to be a very interesting mystery to watch unfold. Newsweek is sticking to their guns. I would expect nothing less. If they got this wrong it is in a print edition. Kind of hard to retract that. As well, the possible lawsuit that could follow. Makes sense that they would stand by their story. And who knows, they might be right. 
For the time being I'm going to have to side with Occam on this one. 
 (Image used under CC from Castles, Capes & Clones)